Western Sydney International Airport's preliminary flight paths: Opportunities to have your say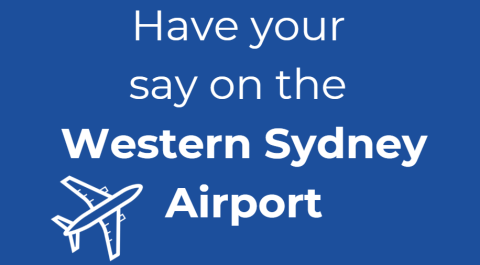 The Australian Government has released the preliminary flight paths for Western Sydney International (Nancy-Bird Walton) Airport (WSI) for community viewing.
An interactive Aircraft Overflight Noise Tool is available that enables searching an address or a specific location to get a clear picture of the impact of the preliminary flight paths in your area.
There is an opportunity for Mitchell residents to sit with members of the Western Sydney Airport project team to have your questions answered in detail. Places are limited so please book your session time.
The Bella Vista Community Information and feedback session between 1:00pm-4:00pm on Saturday, 9 December at the Village Green Community Centre, Bella Vista.  To register click here. 
For other locations where sessions are being held, please click here.
A community information stall will be held at Norwest Marketown Shopping Centre, 4 Century Circuit, Norwest on Saturday, 2 December from 10:00am to 4:00pm.
Or you can register to attend an online Community Information Webinar at 6:30pm on Tuesday, 14 November 2023.  Click here to register.
This is also an opportunity for Hills residents to have your say about the flight paths and the draft EIS. You can lodge a submission via:
The Online Community Portal at wsiflighpaths.gov.au
Email: eis.submissions@infrastructure.gov.au
Mail: Attn: WSI Flight Paths Team, GPO Box 594, CANBERRA ACT 260
Submissions close Wednesday, 31 January 2024