Presentation to Volunteers at 2nd Castle Hill Scout Group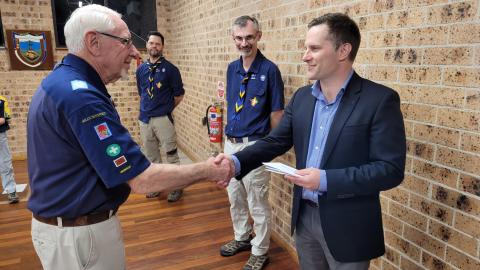 It was a great pleasure to recently visit the 2nd Castle Hill Scout Group to present vouchers to the incredible volunteers who give so much of their time to the benefit of the children and families in our community. 2nd Castle Hill Scouts were recipients of the 2022-23 Volunteer Grants program.
I also want to acknowledge the incredible achievements of the volunteer leaders at 2nd Castle Hill Scouts. Congratulations to Brian (Kimba) Roberts on being awarded the Silver Kangaroo Award at the recent Scouts 2023 Adult Recognition Awards for eminent achievement and meritorious service to the Association for over 60 years' service to the Scout Association.
Congratulations to Jinny Teh (Group Treasurer) and Suzanne Theuns (Group Secretary) on receiving the Special Service Award for their dedicated support of 2nd Castle Hill Scout Group.