Come and particpate in the 2023 Hills Relay for Life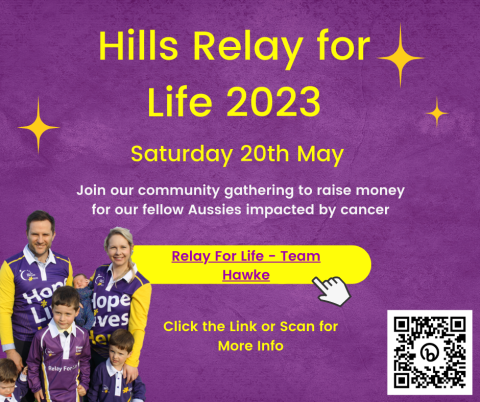 This year marks the 22nd anniversary of Cancer Council's Relay for life, an event I have participated in for over 15 years. I invite you to join me for this year's Hills Relay for Life at the Castle Hill Showgrounds, Castle Hill.
Cancer is a devasting disease that impacts so many of us. This year, we are fighting back. Team Hawke is taking on the Hills Relay For Life to raise much needed funds for people impacted by cancer.
Team: Team Hawke
When: 9am Saturday, 20th May 2023 – 9am Sunday, 21st May 2023
Where: The Hon. Alex Hawke stall at Castle Hill Showgrounds, Castle Hill
To participate in this event register here.
For further details click here.
In Australia, around 134,000 people are diagnosed with cancer every year. They could be our loved ones, our colleagues, or even ourselves. Team Hawke is determined to make sure more people (and their families) receive the support they desperately need. To get there, our team are going the distance. We're taking on the laps so we can offer support services to families through one of the most difficult times of their lives.
Whilst I appreciate that weekends are often a busy time for families, I do encourage you to participate in this fantastic event to help make a difference to our fellow Australians fighting this deadly disease.
Feel free to pop in for an hour, an afternoon or even stay overnight.
I hope to see you there!